We've used this space before to tell you what types of upgrades are most important if you're planning to sell your home, but what if your home is fairly new or has recently been upgraded? Do you need to do anything before you list it?
Yes.
The price you get and the time it takes to sell are directly related to how much effort you put into getting your home in shape to sell it.
If you just moved into a new condo two years ago, or you just remodeled your kitchen and bath, you may think you're all set. And in fact, those attributes are extremely helpful in selling a home. But that's not all there is to it.
If the important stuff is taken care of, it's time to focus on the minutiae.
What can you do to your home to make it more attractive to buyers?
Store family photos. Every smart real estate agent will tell you not to have those pictures from your sister's wedding or the family portrait from Sears hanging on the wall when your house is being shown. Potential buyers want to picture themselves in your home, and they can't do that if they are greeted by photos of your family's happy, smiling faces on every wall.
This is another reason that, if the sellers still live in the home, the agent asks them to leave when they're coming by to show the house. If you're relaxed in the recliner with a beer watching the game, this image is going to stick in the potential buyer's mind.
Store half of everything else. Buyers want space. They want space in the kitchen cabinets, the closets, the pantry — everywhere. They want enough room for their stuff. If your home is chock-full of your stuff, they'll get the impression that it's small and they'll look elsewhere.
A real estate agent's rule of thumb is to store half of everything you have out. (Or really, can't you throw some of that stuff away?) We're not just talking about the tchotchkes either. We mean the furniture, kitchenware, your clothes — all of it.
Your living room should have a couch and two chairs, max. A coffee table and two side tables are OK. Everything else has to go. Bookcases? No. Entertainment center? No. Large-screen TV? No. Gargantuan sectional sofa? No! Potted plants? Sigh. OK, but no more than three.
Also put away half the stuff in your closets. The importance of closet space to potential buyers cannot be overestimated. You need to make your closets look spacious. If your clothes are stuffed in so tightly you don't even need hangers, some of them need to go. Shoes too. And purses. And whatever else you have in there. Just make sure it's half empty. (Pessimistic buyers will especially appreciate this.)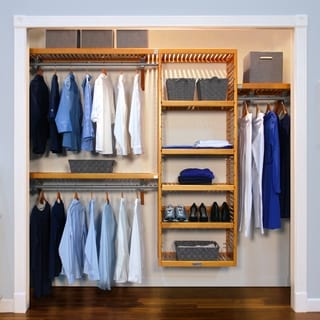 Potential buyers will also open your kitchen cabinets, so if they're full of mismatched glasses and half-eaten boxes of crackers stacked atop one another, you're going to leave a bad impression. Go to Ikea and buy eight glasses for $4.99 and bring all your mismatched glasses to Value Village. (Don't buy anything while you're there — don't even go in! Just set your bag down by the door and back away slowly.)
People will subconsciously get a bad impression of the home if they see Hamburger Helper and Funyuns in your cabinets. They'll equate living there with being unhealthy. Seriously, go down to the Container Store and get some of those clear glass storage jars and put pasta and quinoa in them. Keep a bowl of fresh fruit on the counter and some SoBe Lifewater in the fridge, in case anyone has the nerve to open it.
Bake some cookies. People love a nice, homey smell, and fresh-baked cookies can't be beat. If you're not a baker, just buy a roll of Pillsbury cookie dough at the grocery store — your guests will never know. Keep it in your fridge and spoon out a few and slap them in the oven as soon as your agent calls and says he's on his way over. If someone else in the house has eaten it while you weren't looking, brew a pot of coffee. People love the smell of coffee. Then skedaddle.Don't try any other aromas besides these. No potpourri, no Febreze, no Renuzit Doozit. You may like these smells, but they may be off-putting to others. Cookies and coffee are almost universally pleasing smells; anything else is a gamble.
Now that you know what to do to get your home to sell faster, you can concentrate on shopping for your new digs. And have those cookies and coffee while you browse!