The National Museum of African American History and Culture
Freedom Sounds: A Community Celebration
September 23rd-September 25th
The National Museum of African American History and Culture will officially open on Saturday, September 24th.  As of now, all of the timed passes are spoken for but you can go ahead and reserve passes online for November and December. However, you'll want to speed up the process. Last I looked there weren't very many dates/times available for the remainder of the year.  If you won't be able to get into the new (and uniquely designed) museum until after the new year, dry your eyes, you can still attend the grand opening festival this weekend for free!
Freedom Sounds: A Community Celebration, is a three-day festival marking the Museum's opening. Events begin Friday, September 23 and continue through Sunday, September 25. Friday's theme is Homecoming, Saturday's is Celebration, and Sunday's theme is Call and Response. Get more info on the museum and festival here.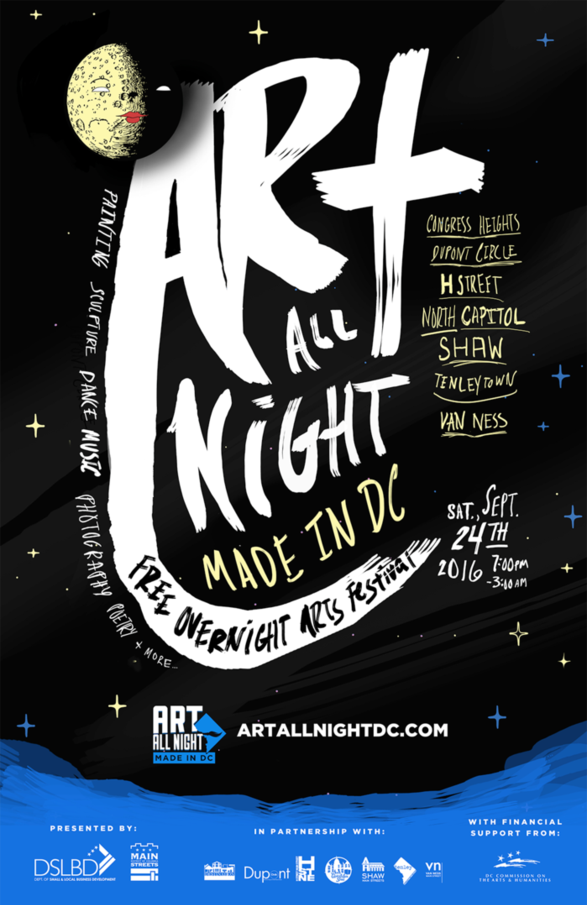 Art All Night
September 24th
I missed this last year and am determined to take a walk around some of our neighborhoods to soak up some of the creativity this city has to offer. According to their website, "Art All Night: Made in DC is Washington, DC's free overnight arts festival, starting at 7:00 PM on Saturday, September 24, 2016 and running until 3:00 AM the following morning. The festival will take place in seven DC Main Streets neighborhoods, bringing visual and performing arts, including painting, photography, sculpture, crafts, fashion, music, dance, theater, film, and poetry, to indoor and outdoor public and private spaces, including businesses." Stroll through Congress Heights, Dupont Circle, H Street, North Capitol, Shaw, Tenleytown, and/or Van Ness anytime between 7 p.m.- 3 a.m. (pre-party begins at 4 p.m. in Shaw), and set your sites on some of DC's very own talent.  A full schedule of activities can be found here.
DC Fashion Week
September 21st – September 25th
Fashion week events started yesterday but will be running through Sunday, September 25th.  It is a ticketed event and they are all sold out for Friday and Saturday, however, tickets for Sunday's event (including VIP) are available here. The week closes out with an impressive International Couture Collections Show, as international designers present their latest and greatest creations. The show will be held at the lovely Carnegie Library.